Meet Roy JD Maleh
An Explosive Force in Integrated Digital Marketing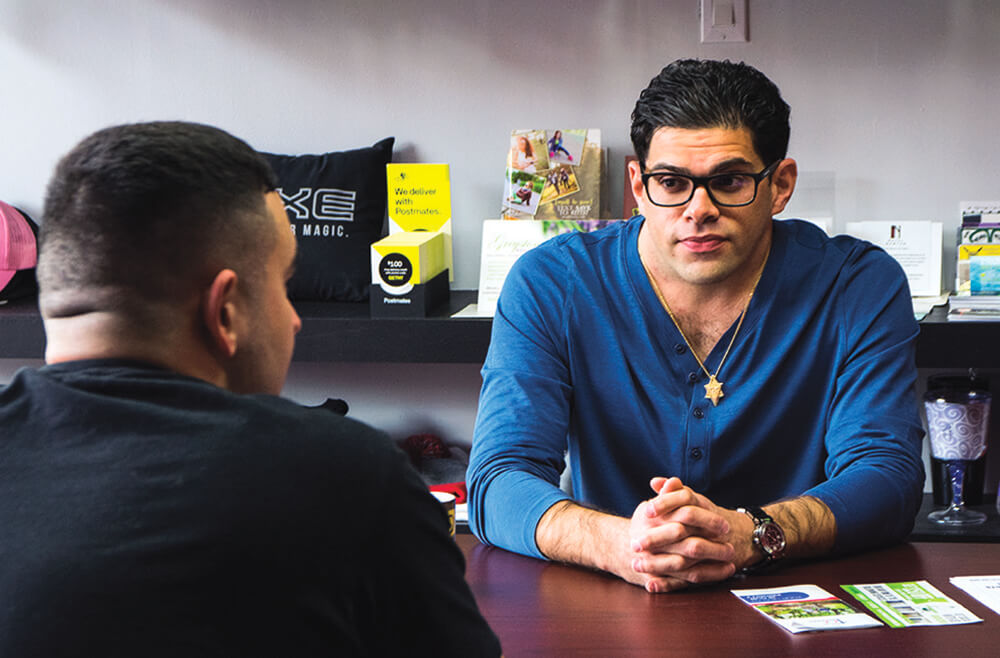 Roy JD Maleh, founder and CEO of Media Explode, meeting with a client
A few years into training to become a pharmacist, Roy JD Maleh realized he was on the wrong path. "I was doing field placement and felt in my gut that a career as a pharmacist was not what I really wanted," he recalls. For JD, the small, part-time digital marketing business he ran outside of school was where his heart was.
JD changed direction, switching his area of study to one in Business, Management and Finance and upon graduating, devoted himself full-time to building his company, Media Explode. With a team of four, he began growing the company's specialties to include brand identity, website development, digital marketing, media production, public relations, print services, promotional products, branded apparel and everything in between.
NO LONGER THE NEW KID ON THE BLOCK
As the company's services expanded, JD found himself providing his clients with a high level of strategic advice to help them reach their business goals. "Although my company began by offering web design and social media support, we'd grown into an integrated marketing company with an array of services to help businesses and we were now offering clients sophisticated problem-solving through strategic marketing strategies." In a few years, his part-time business had evolved into one where clients could shop full-service for a range of services that would best tell their stories and get their messages out to the right audiences. "We were no longer the 'new kid on the block,' but seasoned pros providing a high level of strategic thinking and support for brands, companies, franchises, non-profits and startups." That's when JD decided to pursue his MBA with a specialization in Health Care Management, which would give him additional training in business as well as a credential that matched his know-how.
JD decided to enroll in Touro Graduate School of Business (GSB) because it would provide him with the knowledge he sought as well as offer him the flexibility needed to continue running his business. In addition, he was eager for a chance to learn more about health care and business, an area of concentration that GSB offered, which JD believed would be in the best interest of Media Explode.
GSB PROVIDES NEW PERSPECTIVE
While JD had expected to increase his health care industry knowledge and business acumen at Touro, a course in change management provided JD with new insight. "I had hands-on experience in providing services to small and medium-sized companies," JD explains. "This course looked at effecting change in a large corporation and helped me to see ways that my business might be able to expand into working with large corporations and multinationals."
Since earning his degree three years ago, JD's business has continued to expand. Today it has offices in Brooklyn, New York and Lisbon, Portugal. Explains JD, "The Lisbon office has been a huge benefit to us. In an era when the internet never sleeps, the five-hour time difference makes it possible for Media Explode to provide clients with 24-hour service." With a team of almost 20, JD's company provides strategy and creative design across digital, social, mobile, content and visual production channels for a roster of clients that includes medical and educational institutions, law firms, financial services, restaurants, nightclubs, car dealerships, spas and fitness clubs. In addition, just as he had envisioned, Media Explode has attracted health care organizations, among them nursing homes, medical offices, dental practices and homecare organizations.
COLLABORATION IS KEY
With a workday that starts early and can finish well past 10pm, JD feels fortunate to have a talented team of creative designers, marketers and developers who collaborate on all client projects. He says he owes his growing success to the team he surrounds himself with and the resources he has developed over the years. "We take pride in growing from each other's knowledge, constantly evolving with the times and expanding our team-base to cover new technologies. We are always seeking opportunities and possibilities for our clients and pushing them so they can be out in front of the competition. I think this is part of what sets Media Explode apart."