Dean's Welcome Message
Dear Touro Graduate School of Business Students and Alumni,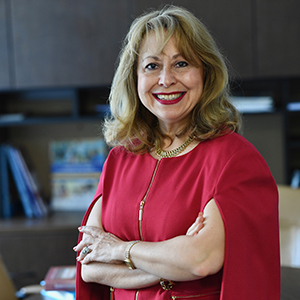 For those of whom I've yet to meet, kindly allow me to introduce myself to you virtually as the Dean of the Graduate School of Business (GSB). I'm honored to be part of this incredible institution with its highly-dynamic senior leadership; caring and vibrant staff members; accomplished and engaging faculty; and ambitious, motivated and curious students.
Despite the pandemic and civil unrest, we have persevered and are extremely excited to be celebrating Touro's 50th anniversary this year! Below, are some highlight that I'd like to share with you:
I am pleased to report that we are now offering two new Advanced Certificate programs: Real Estate Entrepreneurship and Not-for-Profit Management whose courses can also be applied toward the MBA degree. We are also excited to be piloting an Artificial Intelligence platform software which will allow students to improve their presentation skills!
Furthermore, I've had the pleasure to forge many collaborative programs with our intra-Touro schools.
Meritorious business students from NYSCAS can now take up to 4 graduate classes free of charge and save one semester of study when continuing their education at GSB.
Pharmacy students can now take MBA classes while pursuing their PharmD degree.
A new dual-degree BS-MS in Accounting will be launched this year. Students enrolled in this program will earn 2 degrees, be CPA ready, pay less tuition and graduate early!
Business Data Analytics concentration has been incorporated into GST's MS in Data Analytics.
In addition to our new and collaborative degree programs, we are offering 2 intra-Touro, co-curricular programs and a webinar series. Feel free to inquire and participate in these "free" self-development programs:
Moonshot Scholars program - runs in the fall semester
Business Plan Competition - runs in the spring semester
Latest Realtor News Webinars - offered in fall, spring & summer semesters. Examples of topics: "Real Estate and Crypto-Currency: What do they have in common?" & "Real Estate and Cannabis" upcoming in September 2022.
We are very proud of our alumni and through their coaxing, I am happy to report that GSB has become a member and has inducted the first cohort of students and alumni into Sigma Beta Delta International Honor Society in Business, Management and Administration this year. We hope to induct more academically deserving students and have them enjoy the benefits of this honor society in the coming years!
Lastly, through many of our caring benefactors, we have raised money and distributed funds to those in financial need during this Covid period and have established scholarship opportunities for our students for the coming year. The names of these benefactors now reside on our Donor Recognition Tree Plaque which is hung in the hallway outside my office door, room 1117. We are deeply grateful to them!
We are continuing to build the GSB brand and are always looking to expand our social media presence. Please like us and follow us on Instagram, Facebook, Twitter and LinkedIn For the latest news & events! I encourage you to reach to us with any questions, ideas, or suggestions about any of our programming or with any news you would like to share with us.
Looking forward to a productive year ahead, and remember our motto: Don't Just Succeed, Lead!
Very best,
Dean Mary L. Lo Re