Dean's Welcome Message
Dear Touro Graduate School of Business Students and Alumni,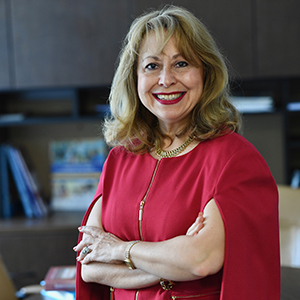 For those of you I haven't had the chance to meet, please allow me to introduce myself to you virtually as the new Dean of the Graduate School of Business (GSB). While I've only been at Touro for a little over three months, I'm proud to be part of this incredible institution with its highly-dynamic senior leadership, caring and vibrant staff members, accomplished and engaging faculty, and ambitious, motivated and curious students.
A lot is being planned and below are some highlights that I'd like to share with you:
Our new initiative, the Career Accelerator Program, will ensure that our students learn the vital soft skills needed in today's highly competitive business industry such as effective communication, building confidence and effective use of social media. In addition to the resources provided by our Career Resource Center, students enrolled in this program will be provided with five intensive private counseling sessions, each focused on different career development skills that are key to ongoing career advancement.
We have onboarded James "Skip" Vaccarino as our new Human Resource Management Director and are excited to welcome him to the team! He will be working with current students and alumni to obtain internships and full-time employment opportunities, as well as be on hand to assist with crafting resumes, cover letters, elevator pitches, and improving LinkedIn profiles. Students and alumni can contact Prof. Vaccarino at <james.vaccarino@touro.edu> or visit him on campus Monday-Thursday from 4:00-7:00pm in room 1115 at 232 West 40th Street to engage in one-on-one interview preparation and more.
A Memorandum of Understanding has just been signed with the AmLotus Language School, which will enable GSB to better assist academically-ready and newly enrolled international students. This partnership will ensure our international students' success as well as enrich and further diversify our current study body.
GSB is joining more than 125 universities and colleges around the globe to celebrate "Women Entrepreneurship Week". We are proud to have Jana B. Woodhouse, known as the "Queen of Finance" and one of the first minority women to work on Wall Street, as our guest speaker. In addition, many of our own GSB women entrepreneurs will be on hand at our not-to-miss event on October 23rd. Be sure to look out for the upcoming invite and we hope you can join us!
We're currently planning for many more exciting collaborations and programs to take place, so stay tuned for updates. If you have any questions, ideas, or suggestions about any of our programming or anything else, I encourage you to reach out to us. My walk-in office hours are Mondays and Thursdays from 5:00-6:00pm in room 1117. I've also added a mailbox outside my office so that you may leave me a note even if I'm not there.
Looking forward to a productive year ahead,
Dean Mary L. Lo Re