Alumni Spotlight: Jens Hoffmann-Richards
From Berlin to NYC, This Touro Alum Explains Why He Moved Across the Globe to Advance His Business Career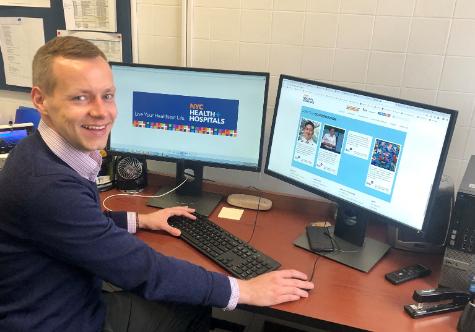 Ever considered a semester abroad? It's a brave decision that allows you to expand your horizons through exposure to varied cultures and perspectives, while also learning invaluable communication techniques. Jens Hoffmann-Richards knew the importance of relocating to unlock his career potential, ultimately deciding to transfer from Touro Berlin to Touro's New York City-based Graduate School of Business (GSB) to receive his master of business administration (MBA) degree with a concentration in international business finance.
After arriving in the U.S., however, Jens' temporary relocation turned permanent once he got a taste of all that New York City has to offer.
"New York City has much more diversity and a more rapid pace compared to Berlin, so I knew it was the right place for me to learn as much as possible about business operations in a foreign country. Back in Germany, I was a Physician Assistant for an orthopedic surgeon but was always interested in the business side of things. It was during that experience I came to the realization that if I wanted to advance my career in finance, then I needed to get my graduate degree," said Jens.
Now currently Associate Director of Hospitals, Coordinator Fiscal Affairs, Office of the System Chief Medical Officer at NYC Health + Hospitals, he leverages key financial and managerial skills including auditing, corporate finance, healthcare management and even communication skills learned in the Touro classroom in his challenging role.
"I very quickly learned that in a large organization, if you want to succeed, it's necessary to foster relationships, be patient, and learn to speak differently to groups of people to convey a message that makes sense to them," Jens said.
And if it wasn't for his internship at Touro, where he worked closely with Sabine Charles, Internal Audit Director, Jens likely would not have been prepared for his position at NYC Health + Hospitals as she taught him to flip through every page and drill into everything to ensure all information displayed is accurate. Also, he took her advice to act as a detective and learn how to question things that don't add up to heart as this guidance is something that replays in his head constantly while working on critical projects.
"It's really up to the individual to get what you want out of your graduate degree and higher education experience overall. It's critical to figure out what you actually want to learn and focus on what you're passionate about. Working solely for a paycheck won't last long term and it won't make you happy. Instead, listen to your heart and once you figure out what you want, be willing to put in the extra work to make it happen."