Going for the Gold
NYC Mayor's Scholarship Recipient Pursues MBA at Touro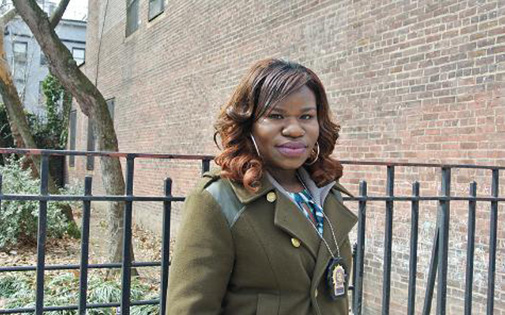 Vanessa Okonta is a planner. With a calendar jammed with reminders and to-do lists, she maps out her life in years, months, weeks, days and hours. In the spring of 2013, Okonta had a pretty detailed plan. She'd graduated from Pace University and had just landed a job with New York City's Human Resource Administration as a fraud investigator. The position provided many opportunities for growth and advancement, a chance to make a difference in the lives of others and steady income to help pay off her college debt. She planned to attend graduate school one day and assumed that was far off in her future. And yet, the best laid plans often go awry, especially when opportunity knocks.
In the fall of 2013, an announcement for the Mayor's Graduate Scholarship Program offering full and partial grants to outstanding New York City government employees at participating schools arrived in Okonta's e-mail box. As she read about the program, she grew excited. This was an opportunity she couldn't pass up. Okonta knew that she wanted to move into a managerial role and for this, she would need an advanced degree. She also hoped to one day start a nonprofit devoted to empowering young girls and building self-esteem, either in the U.S. or her country of origin, Nigeria where she lived until the age of five. "Life's greatest rewards come from enriching the lives of others by sharing, giving and spreading knowledge. I believe that's how I will find my greatest satisfaction."
For Okonta, an MBA from Touro with a concentration in human resource management was an obvious route toward these goals. "I took the next step and attended an informational session at Touro's Graduate School of Business where I listened, asked questions, and learned about its offerings."
Immediately, Okonta was drawn to the school's welcoming atmosphere and the warmth and supportiveness of Dean Sabra Brock and Administrative Director Harriet Fenner. Soon afterwards, she submitted an application. In late 2013, she learned both of her acceptance to Touro's Graduate School of Business and her receipt of the scholarship which totaled $10,000. "I was thrilled!" says Okonta, who matriculated at Touro in January 2014 and now attends classes after work two to three nights a week. Needless to say, her calendar is crammed with more lists and
reminders than ever before but with all that she is expected to graduate
December 2015 with honors.
"Touro is so convenient — just 15 minutes from my job — and I've already learned so much from the coursework and professors," says Okonta. Her favorite course to date has been Human Capital Management, taught by faculty member James (Skip) Vaccarino. "In that course, I really learned how to navigate delicate situations with coworkers and began to grasp the concept of setting boundaries," explains Okonta.
She's also found the diversity of the school's student body to be an added bonus. "In my program are students from diverse cultures and backgrounds My program has so many different types of people: international students, people fresh out of college and those who are working as well as others who are much older and bring different life experiences to the table. Together, we enrich the learning experiences of one another," explains Okonta.