Graduate School of Business 2017 Career Fair Brings Employers to Students and Alum
Exclusive Event Dedicated to Student Advancement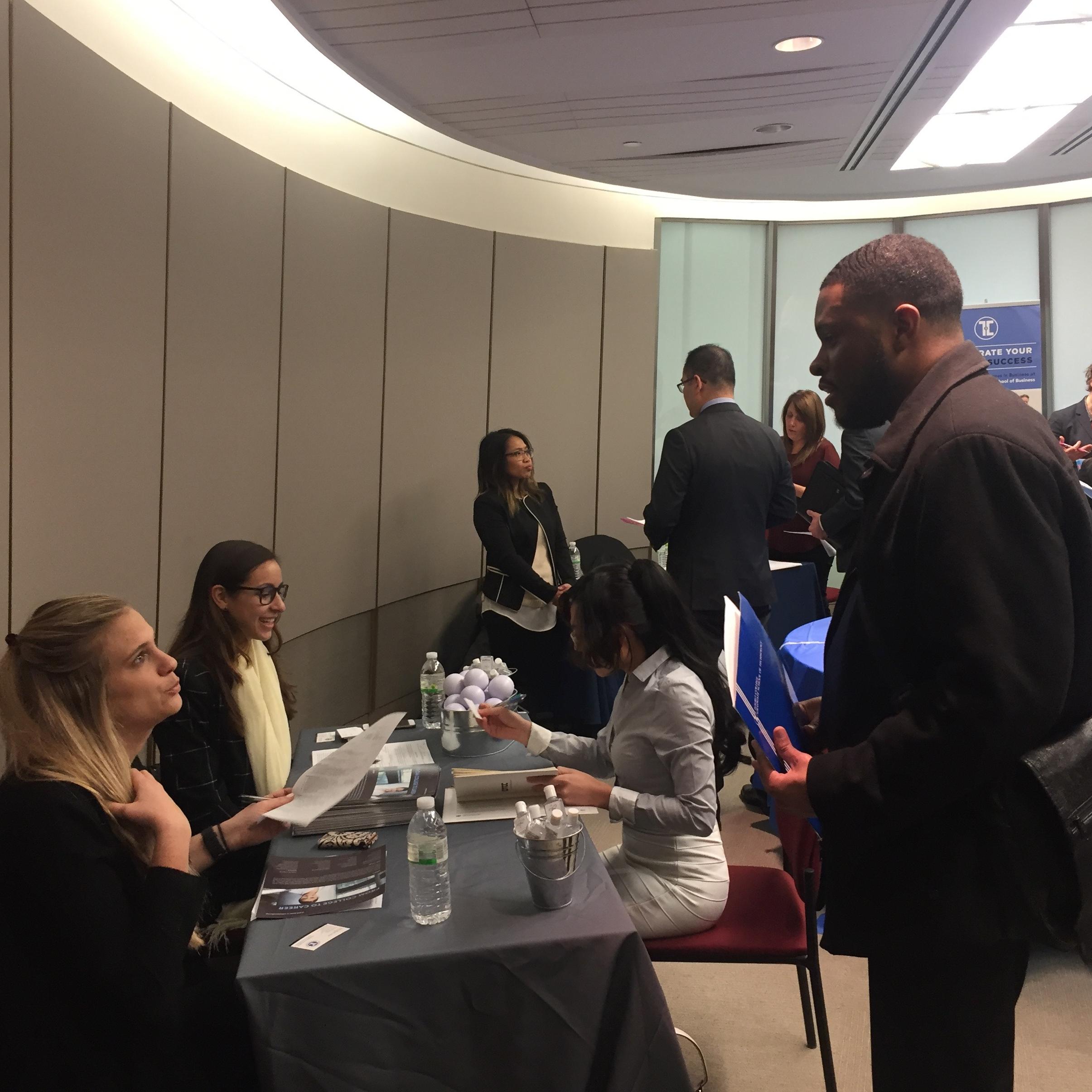 At an exclusive career fair held at Touro College's Graduate School of Business (GSB) on March 22, eleven select employers—high tech companies, staffing solutions and law firms—met with promising GSB students and graduates.
"Touro graduates are eager and hungry to get professional experience," said Kelly Mares, executive recruiter at the Bond Street Group, LLC. In addition to Bond Street Group, companies included Green Key Resources, Winter Wyman, FSI Staffing Solution, The Forum Group and Quantum Networks. "We're always looking for great candidates," said Samantha Wolf of Execu Search. "Everyone we met was very professional."
"The Touro College Graduate School of Business is all about professional advancement," explained GSB Interim Dean Dr. Sabra Brock. "Our career fairs are an important tool to that end, and the employers who visited were excited about meeting our students."
Kevin McCorry, Administrative Manager for GSB, added: "We view graduate school as an investment our students make in themselves," he said. "This career fair is an opportunity for our students and alumni to take the next step toward achieving their highest professional goals."
Spain-born GSB-student, Esther Elkouss said she is looking for a manager position in digital marketing. As she waited between interviews, she spoke about how her experience at GSB aided her in her professional development. "I loved the small classes at GSB—we were able to develop strong relationships with our teachers," Elkouss stated.
As part of a research fellowship, Elkouss received through the school, she completed a survey on more than twenty marketing managers working in the digital world—a topic which she spoke about with her interviewers.
Bita Goldman, General Counsel and Vice President of Quantum Networks, said this was her company's second appearance at the GSB Career Fair. "We had such a good experience with the last Touro student we hired," she said, explaining how much that person contributed to their digital marketing effort.
Cait Khosla and Samantha Buck, recruiters at Atrium Staffing, said that they liked the openness of the graduates they met. "We liked how interested the students were in the variety of opportunities we had," said Buck. "They're serious, driven and excited for the next step."
The event was also open to other students in Touro's graduate programs. Peter Hinds is currently completing a degree at Touro's Graduate School of Technology. "I got more experience," he said. "I gave my elevator pitch and got some useful feedback."
McCorry said the events are also open to prospective GSB students, such as Natalia Nuomova who was considering enrolling in the fall semester. She spoke with a GSB faculty member before heading to meet a recruiter. GSB's innovative class schedule would give her the flexibility she needed, Nuomova said. "I can work during the day and get my degree in the evening," she said.
McCorry said that allowing prospective students in the career fair showed them how far Touro goes for their students. "We show them how dedicated we are to their professional advancement."
Amy Nguyen, pursuing a master's degree in human resources management, said she had come from Vietnam to pursue a graduate degree in the US and chose Touro because of its program. She said she appreciated the regular support from the GSB administrative team she's been getting in her search for an internship.
Small business owner Alan Abeaziz said that he was pursuing an MBA in healthcare from GSB because of a job he had working at a group home for developmentally disabled adults. "I'd like to eventually run my own nursing home." He said that the career fair had been productive for him. "You can tell it's going well when interviewers tell you they have a position open for you and they want you to come in immediately."
As the evening wound down, Petra Brown, who just graduated in January with her master's degree in human resources management, said her interviews had gone well. "It was excellent," she said. "They're all going to get back to me."