GSB Speaker Chayim Herskowitz: Accounting Professor, Talmudic Scholar, Intrepid Traveler
Bringing Corporate Financial Know-How Back Home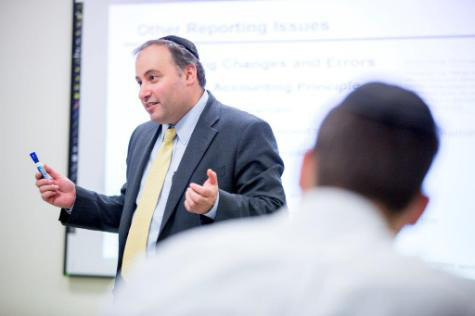 New York, NY – June 22, 2015 - With his invitation to be the guest speaker at the Graduate School of Business's 2015 commencement, accounting professor Chayim Herskowitz has come full circle. "It was very comforting to come back to Touro. I felt like I was back home."
The affable Queens resident and former audit manager at corporate giants Price WaterhouseCoopers (one of the big four accounting firms) and Empire Blue Cross Blue Shield (a Fortune 500 Company) is a proud graduate of Touro College, class of '93.
He studied at Lander College of Arts and Sciences (LAS) because of its well-regarded accounting department and its professors known for their hands-on experience. "They give you a feel for what life is going to be like in business. You get a wide range of experience and see what the end result will be. They really did deliver."
While attending LAS at night, Herskowitz took classes in advanced Talmudic studies at Touro's Yeshiva Ohr Hachaim during the day. He credits the Rabbis there as well, particularly the Rosh Yeshiva, Rabbi Doniel Lander [who is also Chancellor of Touro College] with being "very devoted to students and having a large influence, not just in my Jewish studies, but in my academic success and in life, too."
Herskowitz also holds graduate degrees in education and special education from Touro, which enabled him to teach students with learning challenges who require IEPs (Individualized Education Program). "There are usually one or two students who need extra help," he says.
After the accounting scandals at Enron and WorldCom during the early 2000's, Herskowitz worked extensively on several Fortune 500 companies' governance, risk, and compliance policies− required by the newly enacted Sarbanes Oxley law, which mandated stricter internal financial controls at corporations.
Herskowitz also co-writes simulation problems for the AICPA's (American Institute of Certified Public Accountants) CPA Examination.
Dr. Moshe Sokol, Dean of LCM, lauds Herskowitz for being an outstanding member of the Touro faculty. "He is a rigorous, dynamic, and broadly knowledgeable instructor, who succeeds in making difficult material both comprehensible and interesting."
Barry Bressler, Dean of Undergraduate Business at LAS added, "Chayim is a man of many talents. He was an outstanding student and is a gifted teacher and educational administrator. Above all, he can always be relied upon to help students and colleagues. He is a credit to the business school, the accounting profession and to Touro College."
Asked what is the biggest misconception that students have about the accounting profession, Herskowitz says, "They believe that if you go for an accounting degree, you must become an accountant." But, he says, there are many other options out there. "An accounting degree allows you to understand the guts of an organization. The FBI is always looking for accountants. So are counter terrorism task forces," he said.
Herskowitz says he has found a profession that "fits my personality," and says graduate students can, too. "Whatever you end up doing, find an aspect to it that you like, and you'll end up being successful," he advises.
In his spare time, Herskowitz enjoys taking road trips with his family. "I went on a 26-day west coast road trip in 2011 and plan a cross country trip this summer. I love to see the different communities and learn from each one."
Back in New York, Herskowitz lives in Queens with his family: a teenage son and daughter, and his wife, who runs a busy title insurance company. Naturally, he said, "I do the books for her."