Touro's Graduate School of Business (GSB) Honors Women Entrepreneurs in Special Event
Celebrating Global Women's Entrepreneurship Week, "Queen of Finance" Jana B. Woodhouse is the Featured Speaker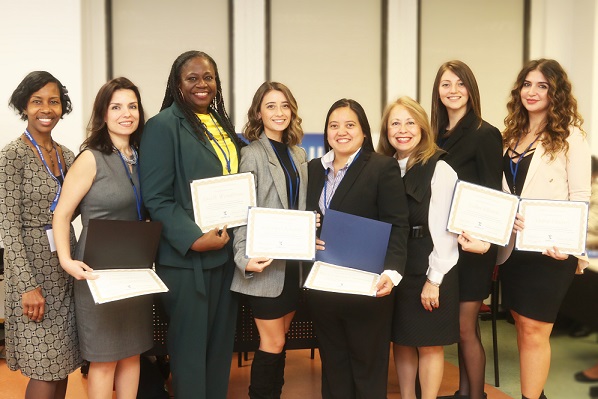 Women's Entrepreneurship Week is a week-long event created to celebrate women who have taken the brave steps forward to become an entrepreneur, with events being held around the world to enable these powerful female forces of nature to share ideas and learn from each other, form key networking relationships as well as create deeper bonds with their communities. Recently, Touro College Graduate School of Business (GSB) joined more than 230 universities, colleges and institutions, located in 32 countries and 47 states, and held its own Women Entrepreneurship event.
"I was compelled to organize this event since entrepreneurship is a driving force of our nation's economy. With highly-educated women making up a little over half of the labor force, we need to honor these women who have embraced this entrepreneurial spirit and continue to educate, nurture and encourage their growth potential," said Dr. Mary L. Lo Re, Dean of the Graduate School of Business.
Jana B. Woodhouse, President and CEO of Anaj Enterprises, Inc. and known as the "Queen of Finance" addressed the crowd as the featured speaker. "I believe women who have built successful businesses have a responsibility to share what they've learned and pass it down from generation to generation. The Women Entrepreneurship event at GSB gave me, and the extraordinary panelists, that opportunity. If our audience left feeling inspired, and with an understanding that financial freedom doesn't have to be a pipe dream, it can be a possibility – then mission accomplished," Woodhouse said.
At the event, five female entrepreneurs participated in a panel discussion that included GSB alumni Esther Elkouss, the owner of a low-cost smart sizing tool called SmartFit; GSB alumni Nadine Elmasri, an owner of a children's clothing line startup; GSB current MS international business finance student Tugcenur Bahadir, a utility patent holder for a knee medical device; Pinar Otman, President of PinAir Tech Corp, one of the top suppliers for major airlines, repair stations and defense companies globally; and Mary Charmel Samonte, a former Red Mango franchise owner, all of whom reside in New York City.
Panelist Pinar Otman revealed to those in attendance that if you work hard, you will almost always succeed and that you should never give up, no matter what. "The successful people usually do not have any other choice but to keep pushing forward," Otman said.