Five High-Paying Healthcare Management Jobs
Find Out How an MBA in Healthcare Management Can Prepare You for a Satisfying and Challenging Career Ensuring Patients Receive the Best Possible Care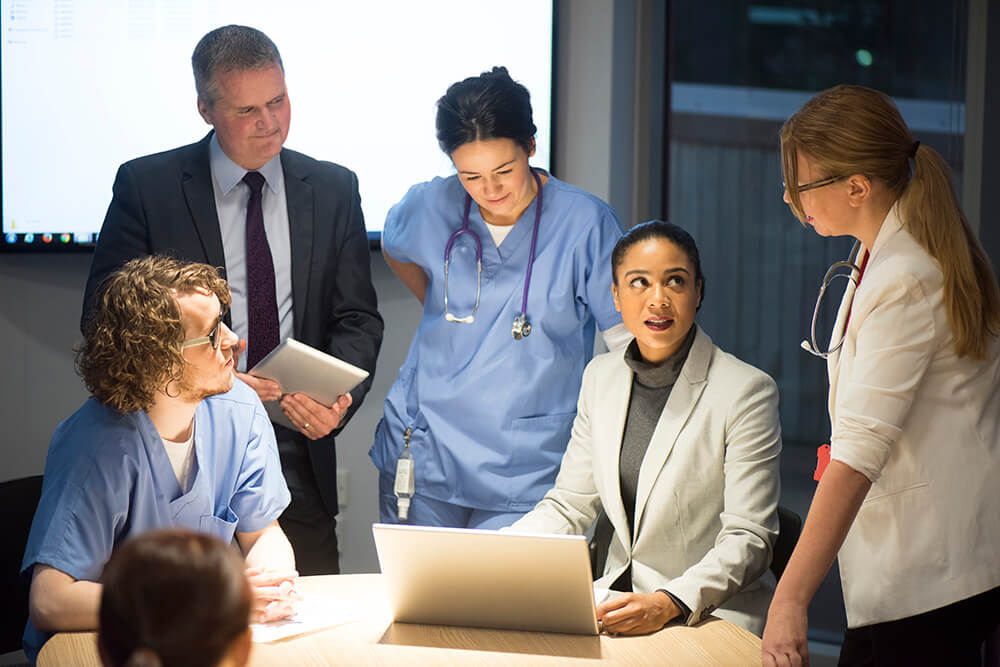 Around the world, hospitals and healthcare providers are figuring out how to handle the long-term effects of the COVID-19 pandemic, and the need for healthcare managers is greater than ever. The demand for Medical and Health Services Managers is expected to grow by 32%, and a master's in Business Administration with a healthcare specialization can put you in a position to take advantage of these opportunities and help shape the future of medicine.
A healthcare-focused MBA will develop the practical leadership skills and advanced knowledge you need to thrive in medical management in a global business environment. Along with core courses that target fundamental business concepts, you'll also learn key strategies, models and best practices within healthcare management that will help you apply your business skills in the medical world.
Once you've earned your MBA degree, you'll be equipped to work in any aspect of healthcare management — from utilizing your financial knowledge to optimize budgets to using your "big picture" understanding of business to oversee the creation of new procedures and policies from start to finish. The career opportunities are not only wide-reaching and high paying, but they also make a real and important impact.
Whether you want to have a direct effect on patients, put yourself on the cutting edge of new technologies and procedures, or use data to improve processes and patient outcomes, a Masters of Business Administration with a healthcare specialization will prepare you for a career field that's rewarding and continuously growing. Check out the following healthcare management careers you can pursue after you earn your MBA focused on healthcare:
Pharmaceutical Brand Manager (Pharmaceutical Project Manager)
After you've earned your Masters of Business Administration with a healthcare specialization, working for a pharmaceutical company is a natural first step. As a brand manager or project manager, you'll collaborate with doctors, chemists, biochemical engineers, the marketing team, technicians and other stakeholders to bring new drugs to market. You'll oversee the entire process, looking at market-saturation and identifying areas of opportunity, coordinating studies about a new therapy's benefits and side effects, arranging clinical trials and developing promotional plans and advertising campaigns.
Working as a Pharmaceutical Project Manager allows you to have a direct influence on patient health, introducing new medications that manage disease, alleviate side effects or pain and improve overall quality of life. Plus, you can expect to earn a median salary of $128,000 annually.
Administrator (Practice Manager/Hospital CEO/Hospital CFO)
As the healthcare field grows, the need for medical managers is expanding with it. An MBA with a healthcare specialization can you put you on a management track that leads you to oversee a clinic, practice, nursing home or even a hospital. While the specifics vary based on the position, administrators handle day-to-day or financial operations to ensure a facility runs smoothly — hiring staff, creating budgets, maintaining compliance, implementing new procedures and equipment and maintaining good public relations with medical professionals and the community.
The salary for a Healthcare Administrator depends on the size, type and location of a practice, but Physician Practice Operations Managers can average $116,000 annually, while a typical Hospital CEO earns between $72,000 and $392,000, they can command up to $1 million at the country's largest hospitals.
Consultant
Working as a healthcare consultant is one of the highest-paying careers you can pursue after getting your MBA with a healthcare specialization. If you're looking for variety and are open to travel, you can contract as an external consultant for a wide range of clients — from hospitals to pharmaceutical companies to medical device manufacturers. You can also pursue a position as an internal consultant, which offers more stability and generally involves less travel. Either way, you'll likely focus on strategic management, offering your expertise to shape and optimize policies and process in every aspect of the business.
Along with being an exciting job that can offer a wide range of opportunities, working as a healthcare consultant after you've earned an MBA is also lucrative. The average salary is roughly $127,000 a year, and a Public Health Consultant with an MBA can average $145,000 annually.
Research and Development Business Manager
If you want to use your MBA with a healthcare specialization to directly improve the lives of others, becoming a Research and Development Business Manager may be the perfect fit. You'll be on the cutting edge of medical discoveries, working closely with scientists, researchers and healthcare professionals to analyze the research they present, interpret the results and make decisions about whether the product or service should come to market. You'll also handle the management aspects of R&D for your organization, creating plans, policies, strategies and budgets.
As a Research and Development Business Manager, you'll always be in the know about the newest, most exciting advancements in the healthcare industry — and you'll be rewarded for your work, earning anywhere between $125,000 and $163,000 per year.
Health Informatics Director (Clinical Informatics Manager)
The digital world has created many challenges when it comes to patient privacy, but it's also created the opportunity for synergy and a more holistic approach to healthcare — and as a Health Informatics Directors, you'll work to balance both. After you earn an MBA with a healthcare specialization, you can apply your expertise of data to informatics, using your knowledge to identify the best collection tools, cherry-pick the data that's actually useful and then use it to set up systems that store and share patient records in ways that result in better health outcomes.
Working as a Healthcare Informatics Director is a great way to make a meaningful impact while also utilizing your knowledge of business and healthcare technologies — making it both a rewarding and high-paying healthcare career. Average salary for this field is between $151,000 and $186,000 per year.
Ready to start your career in healthcare management? Learn more about Touro's Graduate School of Business (GSB)'s Master of Business Administation.
Not ready to commit to an MBA? Touro GSB also offers an Advanced Certificate in Healthcare Management. Once you complete this certificate, you can transfer 15 credits toward the MBA program if you wish to continue to earn your degree. Alternatively, Touro GSB also offers a 33-credit master's degree in Healthcare Management. Explore which program is best for you!