Touro Graduate School of Business (GSB) Career Resource Center Offers Vital Services to Help Job Seekers Amidst a Pandemic
Human Resources Expert with Over 30 Years of Experience Heads Center, Uses Keen Insight to Assist Students and Alumni Seeking New Roles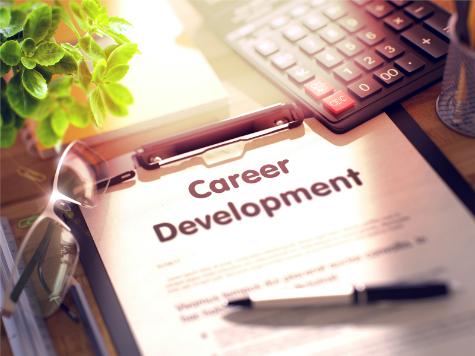 Touro's Graduate School of Business Career Center works with you in the many aspects of your job search.
Looking for a new job or internship can be a full-time job in itself, and the process has become even more daunting as the world navigates through the global pandemic. Touro College GSB understands the unique needs of job and internship seekers at this unprecedented moment in history and aims to provide students and alumni with practical tools to help launch and advance their careers. We recently spoke with Skip Vaccarino, director of the College's Career Resource Center, who has more than 30 years of experience in the human resources field, about the resources the Center offers to enable candidates to get a leg up on the competition.
Interview Workshops
It's critical to be fully prepared before being selected for an interview, and that is one pivotal element that's focused on during the Center's interview workshops.
Through these information sessions, we underscore the importance of completing initial research prior to the first interaction with a hiring manager. We first advise candidates to comb LinkedIn to better understand the company's mission. Next, they should see if they have a potential connection already working where they hope to interview, who can provide vital insight, so the candidate is ready to ask intelligent questions during the interview," said Vaccarino.
Many candidates struggle when asked the question, "Tell me about yourself," Vaccarino shares. He advises candidates to develop a solid "elevator pitch", commonly known as a brief introduction about yourself, and present your background clearly and concisely. Being prepared will make this question less daunting.
In the current COVID climate, most interviews are taking place via video and/or phone, which presents its own set of challenges for job seekers.
Besides practicing responses to multiple questions repeatedly ahead of an interview, we also teach candidates how to best prepare for video or phone interviews. The techniques we focus on include how to control tempo and intonation of responses to increase the interviewer's interest, ensuring the correct placement of the camera and appropriate backgrounds are in place and improving body language while maintaining eye contact," said Vaccarino.
Resume Building Studio
GSB's Resume Building Studio covers all aspects of creating or revising a resume to increase appeal to potential employers. The studio ensures all resumes are properly formatted, utilizes appropriate keywords to attract more attention, and detail past experience to illustrate responsibilities and highlight results and accomplishments. The Career Resource Center also advises job seekers to remember that employer needs may be a bit different during the ongoing pandemic.
In this COVID-era, it's wise to include details on how you're currently set up to work remotely, what technologies you have in place at home, and your current remote work experience to date. I've heard the buzz as of late that people are being advised to list their COVID vaccination status or willingness to be vaccinated when eligible on their resumes as a potential value adds to employers, which could become a trend in the future," Vaccarino said.
Once your interview skills are fine-tuned and your resume is up-to-date, the Center's job search strategy assistance program provides skills and interest surveys, best practices in using social media for a job search, workforce re-entry guidance, and more.
We discuss how to properly utilize social media platforms to maximize a candidate's exposure to potential employers, best ways to search for jobs utilizing functional skills rather than job title searches, building a network within your industry from the top down, and how to successfully market your skills without appearing as a mass-market job search candidate," said Vaccarino.
Getting the Job
Current GSB students and alumni have seen positive results after working with the Career Resource Center. Gershon Haft, a soon-to-be MBA graduate specializing in Healthcare Management, was recently offered a job at Memorial Sloane Kettering Cancer Center. "Professor Vaccarino took the time to diligently review my resume, so I could identify and emphasize skills that would help me to stand out when applying for jobs. We worked together on many resume revisions and I'm very happy with the final version as it helped me to get started in my field," said Haft.
After graduating in December 2020, Samar Gul turned to the Center to further develop her interview skills and was able to successfully land a job at Northwell Health. "I wanted to learn everything I could in a new role while growing personally, and that's exactly what I'm now able to do at Northwell, after receiving help from Professor Vaccarino," said Gul.